Allow me to introduce our company to you. ANACOTE was established in 1957, & has become a leader in the finishing of Aluminum ever since.

RESPONSIVE CUSTOMER SERVICE

At ANACOTE, our willingness & ability to provide specialized service to each customer sets us apart from the rest. Our goal is 100% customer satisfaction. We recognize that each customer has unique needs & strive to accommodate them.

We can help you meet your requirements. We take the worry out of the job by providing the right finish, the right quality - on time, every time. You will be pleased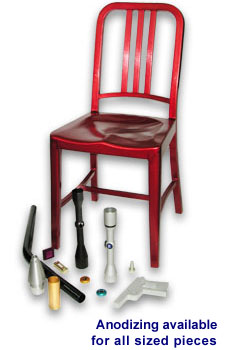 with the personal attention to detail & commitment to quality which you will find at ANACOTE.

We take great pride in our commitment system. When a customer is given a commitment the message is relayed across our computer system to all key personnel. When you have a commitment from ANACOTE, you can count on it.

CAPACITY & FLEXIBILITY

A rush job? A large job? Our capacity for both volume & variety means that we can quickly meet your special needs. We handle thousands of pieces daily & can rapidly increase our capacity to accommodate customers' needs. Our fleet of trucks insures prompt pick-up & delivery.

We are one of the few finishers who design & manufacture most of our racks in house. This allows us to create custom tooling for difficult jobs, and provides the customer with the highest yield, lowest price & best quality.

ANACOTE can recommend the best finish for your materials. We offer numerous finishes & have the flexibility to change, or modify, these quickly to meet our customers needs. Our diverse customer base includes automotive, electronic, fastener, cosmetic, hardware, architectural, photographic, optical, military, & other industries. We are approved by many major corporations.


QUALITY

You need quality you can depend on. At ANACOTE we guarantee high quality through tight control of our processes.


Our in house laboratory allows us to conduct tests daily & to make corrections for optimum performance. For our customers, this means consistent quality & on time delivery.

Our strict Quality systems meets MIL-I-45208 & ISO 9003.


PEOPLE

Yes, we have the latest equipment & a sophisticated in-house laboratory. But it is our people that really make the difference. They have the experience & expertise to handle a variety of finishing needs in a timely manner. They maintain hands-on control of every job. And they care about your business. This is the working atmosphere at ANACOTE.

Our team approach, which involves several members of our organization with each customer,
allows us to work out the best plan to meet your finishing requirements. We listen to your needs & offer advice in making finishing decisions.

WHY SELECT ANACOTE?

* BECAUSE WE KNOW YOUR NEEDS.

* BECAUSE WE OFFER PERSONALIZED SERVICE & A TEAM APPROACH.

* BECAUSE WE PROVIDE A FULL RANGE OF FINISHES FOR ALUMINUM.

We have maintained our reputation for outstanding quality & service since
1957, so you can depend on us for:

* CONSISTENT QUALITY

* PERSONAL SERVICE

* 100 % SATISFACTION

I sincerely hope that ANACOTE'S qualifications meet your metal finishing
needs. Should you have any questions or requirements your call will be
appreciated.

Sincerely,



David Kraft
VICE PRESIDENT